Community Events
Organized by the Hanover NAACP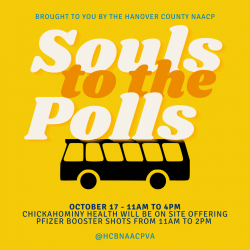 "Souls to the Polls" is a Hanover NAACP initiative to acknowledge the struggles our ancestors encountered with access to voting. By working with Hanover Registrar's Office and local faith-based community partners, we have coordinated an early voting opportunity on Sunday, October 17, 2021 from 11 am to 4 pm at Hanover's Early Voting Center, 7497 County Complex Road, Hanover, VA 23069 in the Wickham building.  Additionally, Chickahominy Health District will be on hand offering Pfizer booster shots from 11 am to 2pm.
Hanover Community Forum on Critical Race Theory
Thursday, July 29, 2021, 6:30 pm
Click here to view presentation.