The Story of the Hanover County NAACP
Serving the community since 1946
The idea of establishing a branch of the National Association for the Advancement of Colored People was born in the minds of the late Deacon Ernest E. Roane and Deacon William R. Claytor. Their dream was for Hanover County to have an organization dedicated to the principles of equality and justice for all People. Their dream became a reality on September 29, 1946. The Hanover Branch of the NAACP was organized at the First Union Baptist Church in Mechanicsville, VA.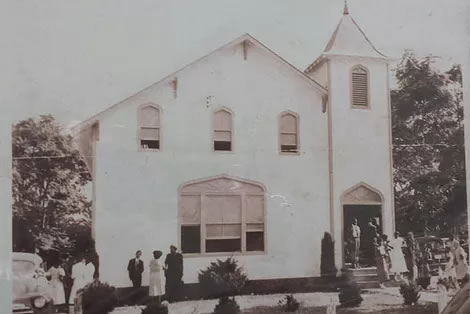 History of Leaders in the Hanover County NAAP
The Hanover Branch was chartered by the late Dr. J.M. Tinsley, first President of the Virginia State Conference. The objectives of the branch were in accordance with the constitution of the State Conference and the National Association.
Mr. Ernest Roane was elected President (1946-1956) Other officers included Mr. James P. Giles, Vice President, Mr. Nelson Holmes, Treasurer, Mrs. Mattie Claytor, secretary (1946-1976). The Executive Board members were the officers and two at large members. Those members were, the late Deacon William R. Claytor, Mr. Contee Robinson, Mrs. Octavia Brooks, Mr. Ralph Anderson, Mr. Herbert Gardner, Mr. T.B. Carter, and Mr. W.H. Thompson.
The Organization grew rapidly. The Hanover branch joined the Richmond branch to break down discrimination at the Thalhimers store after the landmark 1954 Supreme Court case Brown v Board of Education. Hanover also contributed financially to help relieve the deplorable conditions in the Mississippi Delta area.
Mr. Ralph Anderson was elected President (1956-1962) Under the leadership of Mr. Anderson, the Membership and Freedom Fund and Youth committees were organized. Mr. T.B. Carter became the Youth Senior Advisor. Mr. Anderson served as Political Action Chairman for 34 years. He was also a member of the state Board of Directors for the Virginia state conference of the NAACP.
Rev. Milford W. Walker was elected President (1962-1992) Rev. Walker was very responsive to the needs of social justice. Many Life Membership awards, plaques and certificates were received during this term. All Legal Redress complaints were investigated. He participated in marches, rallies, and t he Virginia General Assembly Lobby Day. Rev. Walker served two terms as President of the Virginia state conference of the NAACP, he was a member of the State Board of Directors and Chairman of the Region IV branches. Other officers serving with Mr. Walker were Mr. W.H. Thompson (Vice President), Ms. Jane Tate and Mrs. Nellie Winston (Secretaries), Mrs. Elizabeth Robinson served for many years as assistant secretary. Mr. W.R. Claytor, Mr. George Howard, and Mr. W.G. Robinson served as Treasurers. Mr. Robinson served as Membership Chairman for 32 years. Mrs. Paige Anderson served as Life Membership Chairman for over 30 years. Mrs. Edmonia Iverson served as Assistant Life Membership Chairman for six years. On September 5, 1963 the first Black students were enrolled at the all-white, segregated Lee Davis and Patrick Henry High School. The students were Arlene Thompson, Harriett Thompson, Blanche Holmes, Jackie Holmes, Raymond Baby, Walter Lee, Norbert Lee, and Patricia Lee.
W.H. Thompson was elected President (1992-1994) Mr. Thompson continued to build on the objectives and achievements of the branch. He served as Chairman of the Education Committee from 1956-1992. Mr. Joseph Giles served as Vice President and Chairman of the Religious Affairs and Membership Committees. Mr. Burton Smith served as Assistant Membership Chairman.
Mrs. Elizabeth Waddy was elected President (1994-2001) Mrs. Waddy had succeeded Mr. Joe Giles as Vice President prior to her election as President. Other positions held by Mrs. Waddy were chairman of the Freedom Fund and membership committees. She also served as Secretary of the Virginia state conference of the NAACP. Other officers serving with Mrs. Waddy were. Rev. Evans White (Vice President), Mrs. Alice Clarke (Secretary and Past Youth Advisor), Mrs. Martha Anderson (Assistant Secretary), Mrs. Mary Waddy (Treasurer), Mrs. Zanderine Smith and Ms. Viki Taylor (Life Membership), Mrs. Rachel Thompson (Youth Advisor, Member of Freedom Fund Committee). Rev. Joe Brown was also a member of the Executive Committee. The Youth Chapter was reorganized by the late Junious Holmes. Other youth advisors included Mrs. Joyce Mines, Mrs. Helen Holmes, Ms. Wilnet Jackson.
Mr. Robert Barnett was elected President (2001-2021) Mr. Barnett successfully sought the change of confederate named schools, Lee Davis High School and Stonewall Jackson Middle School. The final decision came down to a 4-3 vote by the Hanover School Board. The names were changed to Mechanicsville High School and Bell Creek Middle School. Other officers serving with Mr. Barnette were Vice President Mr. Eddie Nelson who was later succeeded by Vice President Mrs. Patricia Hunter-Jordan, Treasurer, Mrs. Mary Waddy, Assistant Treasurer, Mr. Earl Hunter Jr., Secretary, Mrs. Martha Anderson, Assistant Secretary, Ms. Wilnet Jackson. Other executive committee members were Communications Chairman, Mrs. Melissa Whitby, Criminal Justice Committee Chairman, Mr. Shawn Dandridge, Environmental Chairman, Mr. Christopher French, Membership, Deacon James Henderson, Freedom Fund Chairman, Mrs. Sue Nelson, Religious Affairs Chairman, Rev. Evans White, Youth Advisor, Ms. Gwen Wright, Education Chairman, Mrs. Alicia Neuman, Scholarship Chairman, Mrs. Alice Clark. Mr. Barnette was elected as President of the Virginia state conference of the NAACP, October 2019.
Mrs. Patricia Hunter-Jordan was elected President (2021-present) Other officers include, Vice Presidents Deshanda Artis, Rev. Shawn Dandridge, Secretary, Mrs. Peggy Lavinder, Treasurer, Mrs. Melanie Bowers. Other executive committee chairman included,  Criminal Justice Chairman, Rev. Shawn Dandridge, Education Chairman, Mr. Michael Powell, Environmental Justice Chairman, Mr. Chris French,  Membership Chairman, Ms. Sandra Rucker, Political Action Chairman, Ms. Ashley Hall, Special Events Chairman, Ms.Joyce Knight, Youth & Young Adults, Mr. Charles Younger. At large members added to the executive committee were Mr. Avery Hilliard, Mr. Robert Goff, and Mrs. Sandra Rucker. The Branch filed a lawsuit on behalf of the Brown Grove Community seeking the prevention of a Wegmans Distribution Center in the middle of this historic African American Community. The National NAACP has presented us with the Thalhimer Award for 2021 and 2022. The Award Is given to the branch that best achieves the programming of the work the NAACP represents. At the 2023 convention we also received the President's Circle Award and the membership building award.