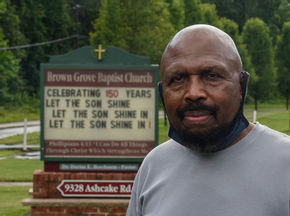 "The Bay Journal recently covered the proposed Wegmans Distribution Center and it's negative impacts to Brown Grove and the surrounding communities.
In addition to ongoing environmental justice issues, there are concerns with under-counting wetland impacts, no surveys conducted to locate unmarked graves, increased traffic and public safety issues and potential impacts to historic resources.
The Hanover County NAACP is following the issue and amplifying community concerns about the project and it's negative impacts."
– Environmental Protection Committee of the Hanover County NAACP Read the article below to learn more.
https://www.bayjournal.com/news/growth_conservation/wegmans-proposal-stirs-up-land-use-controversy-in-va/article_bb25299e-c217-11ea-bd5c-db7e3322e7b5.html?fbclid=IwAR2nOqxMa94EFbJnVRzfIoD_ViahPRqaiYhOhy8jdG3V27pjds2_dfFAxF0